Well, no one can say that 2016 has not been memorable: It'll go down in general history as a year for surprise results and the sad loss of a lot of talent.
But for the Sticky Labels team it has been an eventful year: we've expanded our range of labels, invested heavily in  some cutting-edge printers to provide the very best quality labels available, we've had a brand new website (which we're still looking to improve) and we're going to have some exciting announcements for 2017 with some new products that we've not provided in the past!
Always Improving Our Products: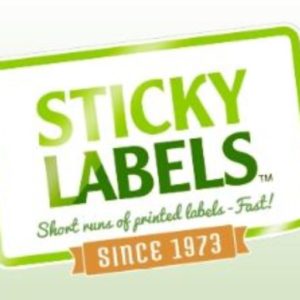 It's important that as technology moves forward, we move with it. This year we have invested in a number of new printers to ensure that the stickers we provide are the very best quality. We are now able to print larger volumes quicker and to a higher quality than ever before!
We keep our exact methods and equipment a secret so we won't be posting pictures but we urge that you try us out and see just how good we are! Many of our clients come for an initial short run of labels but end up re-ordering large quantities when they see that we can print and deliver within 2 working days! – We say 3 to be on the safe side though!
Creating the Gold-Standard For Label Printing Websites
You'll have noticed that we had the entire website overhauled this year! It's our intention to make the whole process of creating and ordering labels as easy as possible.
We will continue to improve the site's design and functionality as we head into 2017. We have some big ideas that we're working on along with a few subtle changes that should streamline your user experience and make things quicker our end so we can do what you want: Provide low-cost, high-quality custom stickers: FAST!
A Brand New Service
We can barely contain our excitement on this one but we're going to wait a little while longer before we make the big announcement!
Along with sticker printing, we've invested in some new equipment that we cannot wait to officially start using… It will be a brand new service for us and though it's not labels, it is still printing and it is something that every business could use. We've already completed a number of orders for a select number of clients but we'll be adding this service officially to the website in the new year!
Many Happy Wishes!
The Sticky Labels Team would like to thank every one of our clients, suppliers, friends and followers for a very eventful 2016 and we sincerely wish you the very best for the festive break… And of course, we hope that 2017 is prosperous and happy for you all!