Address Labels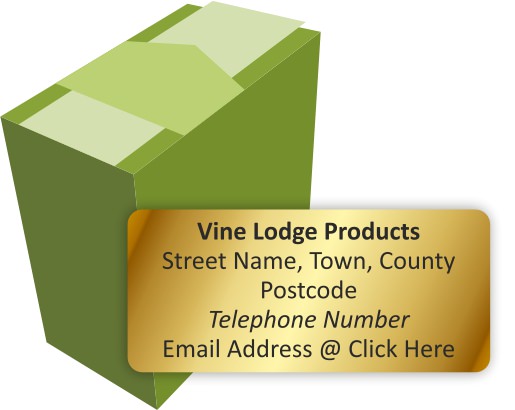 Whether you need 250 address labels for use on letterheads, greetings cards and raffle ticket stubs, or 50,000 address labels for postal packaging, we can offer a wide range of rectangular, circular, oval and square printed labels. They can be customised with your artwork and/or address wording. If you would like printed labels with a choice of background colours, we can offer printed address labels in gold and silver through to clear and radiant/fluorescent red. The labels are all self-adhesive so there is no need to dampen the back. Choose from a wide range of label sizes and shapes with quantities ranging from 250 labels upwards with massive savings for larger orders. These really are time-saving and attractive labels.
Related product:
Return Address Labels | Printed Gold Labels | Printed Square Labels | Printed Circular Labels | Printed Rectangular Labels | Printed Oval Labels
Design, build and pay for your address labels online using our label builder.
ORDER NOW
Address Labels and Stickers
Our Address Labels ensure you're giving the right impression on your outgoing mail and parcels. Look more professional and give the right impression with pre-printed return address labels and even waterproof labels. We offer a range of Address Labels including rectangular, circular and full-colour address labels. Using our easy to use online editor software you can design your address labels and customise them with colours, fonts and images and order online for fast dispatch within 2 working days (A faster 1-day dispatch service is also available). Address Labels are available with the following features: - Coloured Address Labels (Including Gold, Blue, Yellow and Glossy White) - Coloured Text - Different Shapes - Rectangular and Circular Address Labels - Address Labels available on a roll - Upload your own artwork or use an image from our range - Add numbering to your address labels. With the run-up to Christmas fast approaching be sure to order your Address Labels early and make the right impression when your customers receive deliveries. Address labels are ideal for eBay traders, online shops and mailorder businesses. No-one gets address labels to you faster than we do! Start designing now, select an option above! Uses For Address Labels Address labels are perfect for protecting your possessions, from sports gear, school or work equipment. Have your name and address featured in a prominent place on something you own to ensure if it is ever lost, it can easily find its way back to you. Our address labels can also be used for greeting cards and letters giving you a simple way for your correspondents to reach out to you. Simply use one of your new address labels to seal an envelope. This gives people a simple way to write back to you and gives your letters a professional touch. Address labels are a great way for businesses to keep in touch with customers and clients. Having your address label printed on a package makes returning items simple and quick whilst giving the customer peace of mind. There isn't a better way to have your labels printed and shipped with a 2 working day turnaround.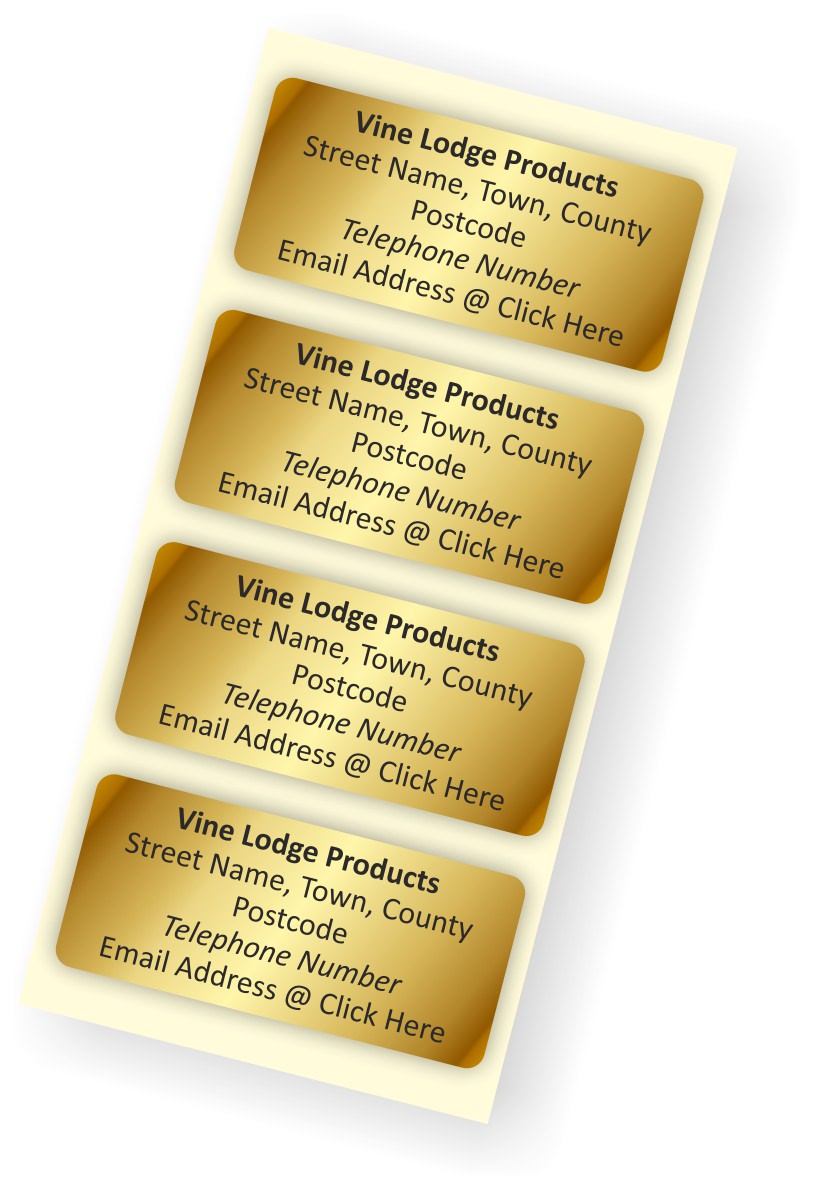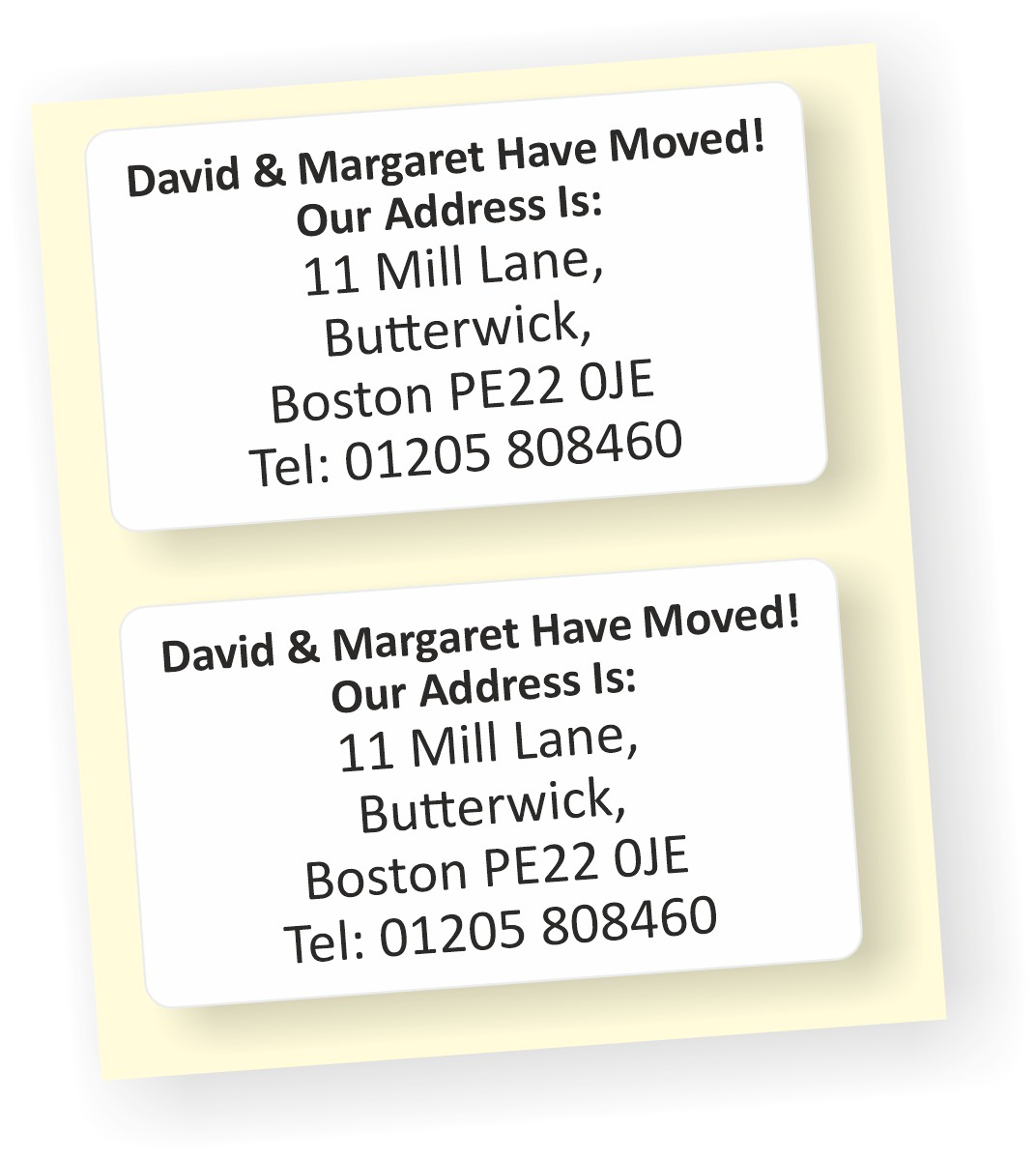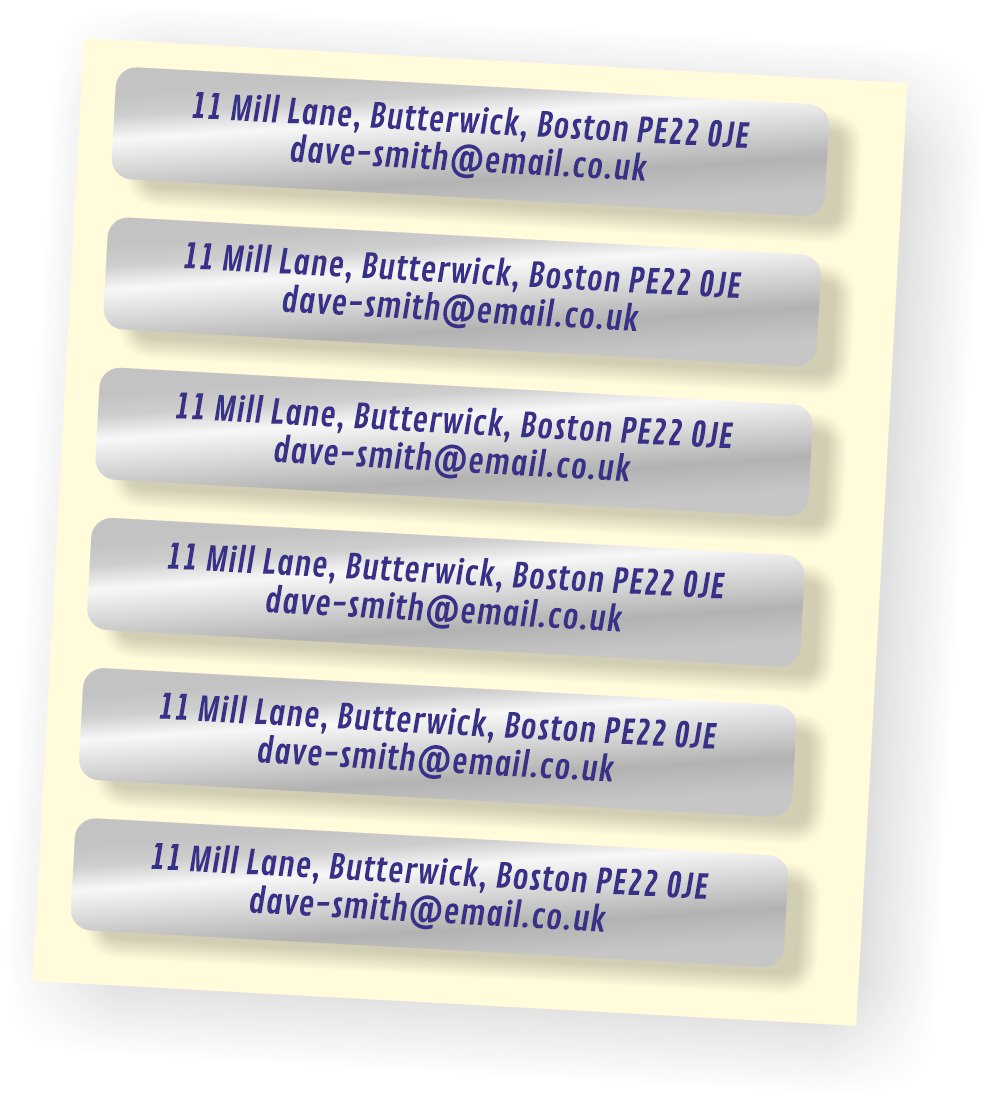 Address Labels FAQs
Our address labels are 49mm by 22mm, this is the size our customers have used for many years now, this size has plenty of space for your name, address, company name, contact information and much more!
Our address labels are 49mm by 22mm, this is the size our customers have used for many years now, this size has plenty of space for your name, address, company name, contact information and much more!
We have a wide variety of materials for your address labels. Full colour options are available in matt paper, gloss paper and biodegradable. We can also offer single colour labels in our peelable materials as well as our eye-catching silver and gold materials
All of our address labels can have artwork on them, whether this be the main feature of the label, or if this is along side text we can print this in a variety of materials.
Of course! Feel free to contact us at sales@stickylabels.com or call us on 01205 808460.
All of our products are dispatched within 2 working days. Delivery is free with all products over £35.00, with orders below this amount being charged just £3.95 for delivery.Should you require your labels urgently we offer a courier delivery service for £9.95.