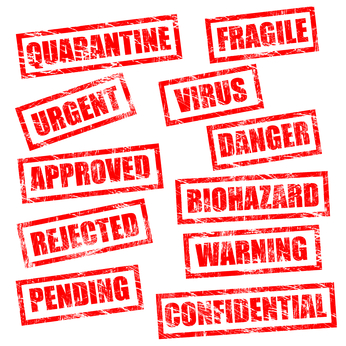 Business labels can benefit your company in a number of different ways. As well as improving health and safety, getting your brand out there, and helping quality and stock control, business labels are also cost-effective, easy to design, and simple to order. What's more, with our simple design system you are able to pick a template based on your particular trade, covering everything from florists to plumbers, or design your business label from scratch, saving you time and money in the process. Still not convinced? Here are three reasons why business labels could be important to your business.
1. They Can Help Keep You Organised
Business labels are a great way to keep everything organised and ensure quality control throughout your business. In today's competitive market, there is little room for error, and quality control is a major issue for many businesses. With business labels you are able to label your products as they pass through your production or service processes, keeping track of each item along the way. They can also be used in keeping detailed inventories of your stock or products, so you can make sure that nothing is lost and no resources are wasted.


2. They Can Help Get Your Brand Out There
Business labels are also a fantastic way of getting your brand out there. Branding is key to the success of any business, so don't pass up any opportunity to strengthen, develop, and spread your brand. With business labels, you can put your brand information on packages, letters, envelopes, stationery, and whatever else you send out to your customers or clients.
3. They Can Help Make Your Business Safer
Health and safety should be an imperative for every business, and business labels are an easy way to provide critical health and safety information to your employees, clients, or customers. If you're an electrician, for example, you can use business labels to denote which electronic items have passed their safety test, which have failed, and which are still to be tested. They are also used for gas workers, who are able to inform their customers that their boiler has been checked and is certified to be safe, and can be used to let them know when they will need to have it looked it again.