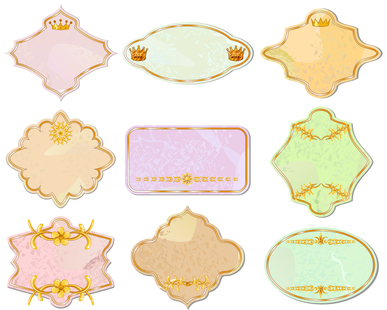 There are many basic stationery items that make life easier, either at home or work. Where would we be without a handful of elastic bands, a board full of drawing pins, or a drawer full of paper clips? There is one other item you can add to these instantly useful items – and that's our small, but perfectly formed craft Sticky Labels.
Design for Free
Perfectly formed because you can quickly design them yourself – and we'll then deliver your order sharpish – saving typing or writing time when a simple and speedy message is required.
Of course, one of the most frequent uses is to prove an identification address label, whether you are sending out business orders or personal greetings cards. These labels can also help recipients avoid having to decipher that scrawled signature of somebody they should know, while desperately trying to decode the postal mark on the envelope!
Style and Ease
Apart from addresses, the fact that you can design our labels online, and with the minimum of fuss but plenty of styles, helps you to say exactly what you want. It might simply be a quick way of adding your stand-out company logo to your communication or adding a specific campaign slogan reminder for your customers.
Helpful Information
They are also a terrific way to add important instruction messages to dispatched orders, ones that help the recipient and ensure that they realise you are making an extra effort on their behalf. An interesting example spotted recently was "Don't open with knives" on a package where an electrical cable was packed just under the box lid. Other helpful warnings, such as "this side up", "open other end" and "invoice enclosed", tend to stand out much more on a full colour printed label than if simply stamped onto the packaging.

With our fantastic craft labels, you can quickly upload your own artwork to make them both identifiable and distinctive, and align and position any copy just the way you want it. We also offer terrific discounts for bulk orders.
This swift process and great craft label value simply leaves one question to answer: what do you need to say?