When it comes to building a successful business, branding is an essential part of the process. Your brand is your business' image; it's the first impression you make on every potential new customer, so it needs to be perfect. Chances are, you will have invested time, and possibly money, into designing a great logo, defining your corporate colours and so on. The next step to successfully making your brand visible is to include your designs on all of your stationery, packaging, and communications.
Personalised sticky labels can be an invaluable part of your business branding strategy, and come in a wide variety of shapes and sizes and are useful in many different ways.
Address Labels
Personalised address labels allow you to effectively brand all of your outgoing mail. They look professional, save you time, and can even serve as free advertising.
Price Labels
Branding your price labels with your logo and using your brand's colours helps to build your business identity and to cement your business in your customer's mind. Sticky labels are also highly customisable; you could have them pre-printed with specific prices and/or product names, or design a blank version with just your logo and chosen colours. The second option leaves you space to hand write prices or descriptions as required.
Sticky labels are perfect for any business, regardless of trade, they are a useful, convenient and cost-effective way to help build your brand.
Florist Labels
Florists can use personalised labels to seal their gift cards, or as a finishing touch on each bouquet. Labels can be rectangular, best for using on cards, or round, which are more decorative and perfect for applying to finished bouquets.
Photographers Labels
Sticky labels are a perfect way for photographers to add their logo to photos being sent to clients, whether they're proofs or finished prints. When the product is packed in a protective sleeve, a sticker can be used as a seal to make it instantly recognisable as belonging to that particular photographer without damaging the print itself.
Another option is to design a sticky label to be used to attach to CDs where photographers send out digital copies of photos to their clients. A well-designed label looks far more professional and stylish than a handwritten title on the disc.
Business Labels
If you are a tradesperson who spends a lot of time filling out invoices and other important paperwork relating to work you have carried out, you can find yourself constantly writing out your address and accreditation details. By using sticky business labels with all the information already included, you can save yourself time as well as presenting a professional image to your clients.

 You can also pick up your pre-printed test and warning labels and other types that you need to provide to comply with your business.
Sandwich Labels
If you run a cafe, a sandwich shop, or even just provide fresh sandwiches in your news agency or corner shop, sticky labels are perfect to show your customers the fillings and prices on offer. You can design a round label or a square label that bears your company logo, with blank space left for you to hand write details of your delicious sandwich fillings and of course the price. A branded sticky label looks far more professional than a plain one, and will also offer potential exposure for your business.
School Labels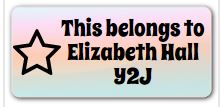 With so much equipment to label in schools, sticky labels are a perfect choice. Labels can be designed with the school's name and logo, and be produced in a great many shapes and sizes suitable for any application. Labels could be attached to school books 'property of xx school', children's book bags, and sports equipment. Sticky labels could also be designed for each teacher at the school along the lines of 'This belongs is Mrs Smith's class', so that lost property can easily be returned. Another option is to personalise the stickers with words of praise to be given as rewards to children for hard work and effort. Again, these could even be personalised for each teacher with slogans such as 'Mrs Smith thinks I'm a star!'. Stickers are a great motivator for children!
Designing your own Personalised Sticky Labels is Fast and Easy
You can decide exactly what text you want to include, perhaps your full business name and address to use as return address labels, or simply your business name and email address to add to promotional material. If you are in need of a label to use for pricing, you could opt for a label that incorporates your logo and brand colours, with enough blank space to hand write prices as required.
You can have your labels printed in different shapes, from circles to squares to rectangles, and in any colours that suit your brand identity. Sticky labels are a versatile, cost effective way to add your brand presence in an instant.