It's as simple as this – warehouse racking needs to be labelled correctly. Incorrect labelling, or
worse, no labelling at all has led, does lead and will continue to lead to expensive mistakes including:
– Delivery of wrong items to clients
–  Stock going out of date
– Misplacement of stock in large warehouses
– Confusion of staff leading to longer retrieval times
By using suitable shelf-edge labelling on racking, corporations can save money by reducing wastage.
Suitable shelf-edge labelling must be:
– Rugged
– Easily visible from a distance
– Contain variable data, or
– Contain consecutive numbering
– Have permanent adhesive
White vinyl labels printed with black or red numbers are generally the best solution, although
companies also use red on clear vinyl as an alternative.
If the shelving is only needed inside and will
not be knocked or rubbed against, black print on radiant red or radiant yellow labels are an excellent high-visibility solution.
As well as racking labelling, warehouse managers need to consider part labelling – this can cover labelling parts for racing cars to labelling items to be sold through Amazon and Ebay.
Data for warehouse racking labels.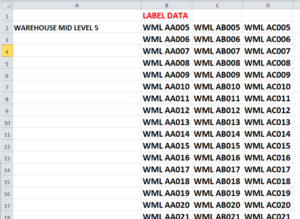 This is usually supplied either as a consecutive number range,
e.g. AA001 – AA100 and AB001 – AB100… or as an Excel spreadsheet with custom data on e.g. Rack 1
Upper Bay, Rack 7 Mid Bay…
This data is then fed into labelling software and printed using a range of different methods from thermal to digital.
If your premises don't have suitable warehouse labelling, consider contacting us. Costs can be as low as £90.00 + vat for 500 labels.
If you're not sure if this is worth it… ask your colleagues what the consequences of a misdirected order will be in both carriage and retrieval costs plus your company's reputation.
Sticky Labels offers a wide range of labelling solutions for industry and retail.
Please fill in your details below if you would like a price for warehouse labelling for your business.