It seems like politics are in the news more than ever and with another election on the way you may wish to help canvas votes and opinion with some custom election stickers.
Because we stock a huge range of coloured and shaped labels, you can always find the right ones for you and customise them. You may want to choose a simple plain white background and add full colour print to that or a pre-coloured, it's entirely up to you!
We'll give you some options and you can go from there. 

We won't of course state any political opinion… That's entirely up to you! 🙂
Design Your Own Election Stickers: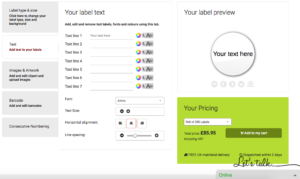 With our custom label designer, it's incredibly easy to create your own bespoke adhesive labels or simply upload your design and place the order… then the printing process can begin!
On the regular labels (excluding custom shaped vinyl) we can print and dispatch them within two working days so usually you will have them within 3 days… We know time is always an issue with politics! You can even use the option to get them printed faster at the checkout for guaranteed next-day delivery!
We stock labels with backgrounds in a range of colours that can be used to represent the main political parties should you wish to do so. The plain white labels are great if you would like a full-colour print that stands out: obviously, it is digitally printed to the highest quality so you will have the best looking stickers available.
We also have a large selection of fonts and some clip art so you don't have to upload your own design, you can simply pick and choose from what we have. Either way, the process is extremely easy and quick so you can have a basic sticker designed and ordered within minutes!
Labels to Suit your Eco-Agenda!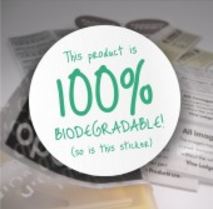 We've already mentioned that we do a variety of colours but did you know we also provide eco-friendly labels?
It may be important to you that the labels you create are biodegradable or recycled especially if the environment is an issue you feel strongly about. We provide our eco-friendly labels for our customers who sell fair trade or environmentally-aware products and they would be ideal for election stickers.
The recycled labels are created from 100% recycled materials that won't cost the environment and the biodegradable stickers will decompose much quicker than regular labels. Obviously, elections come and go and the labels may not be relevant forever so it's good to know they will fade away quickly and are not harming the earth.
Any-Shape Vinyl Stickers Are Made To Last

Of course, you may want labels that do last and that can be used long into future. That's where our custom shape vinyl stickers come in! These can be printed in any colour you like and cut to any shape that suits you. These are great because they are totally unique and because the stickers themselves are incredibly durable.
Being waterproof, UV proof and extremely adhesive means that our custom vinyl stickers will be around for many years to come so we urge that you use them responsibly! They are great if you don't mind them being stuck where are but they are not easy to remove. So just bear in mind that although these stickers are fantastic, they will be around for a long, long time. Probably for the full five-year term or longer!
Please note: Custom Vinyl Labels do take four working days to print and dispatch due to the extra process of cutting them out. Most of our labels are just two working days. So before placing an order, just bear in mind that you will be five to six days before the stickers arrive.