Here at Sticky Labels, we're constantly trying to improve our service to you and make ordering printed labels even easier.
You may have noticed we had a brand new website back in October and we are still working on making it better, sleeker and more user-friendly! We include postage and VAT in the prices shown to avoid nasty surprises at the checkout and now we've overhauled the look of the home page to make sure you find the right labels you require: Quickly.
But What's New?
Improved Layout
Though the site was much better looking that the old Sticky Labels website, we felt we could improve on it. So we've made the layout simpler in a couple of ways:
1: Bigger Buttons For Faster Ordering
We've made the 'Printed Labels' icon (for creating custom stickers we print) and the 'A4 Inkjet and Laser Labels' (for blank labels you can print yourself) buttons much more prominent so you can quickly and easily find what you need and go straight to the label builder or the A4 inkjet page. This may save a few clicks!

2: Find The Sticker You Want With Ease
We've made it easier to find the labels you want by adding our most popular lines of stickers to the home page. Now you can easily select from:
Printed Paper Labels
Custom Sized Vinyl Labels
Printed Waterproof Labels
Craft Labels
Address Labels
Security Labels
Fluorescent Labels
Barcoded Labels
Number Labels
Eco-Friendly Labels
Royal Mail PPI Labels
Sticky Things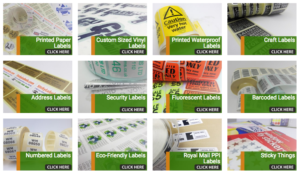 You should find it easier to navigate to exactly what you want and start designing your own labels, uploading your designs or simply ordering A4 sheets of labels to print yourself. But if you are struggling, you can always…
Chat With Us!

You may notice that on the bottom right we have an all-new chat feature. If you have a question you can let us know instantly (Within working hours) or leave your details so we can get back to you. It's much easier than picking up the phone and should mean we can answer any little questions you have or help if you are stuck in the design process.
All you need to do is click on the 'Let's Talk' icon to expand the chat and ask away! We'll even automatically ask you if you need any help provided we can see you've been with us for a while and may be stuck!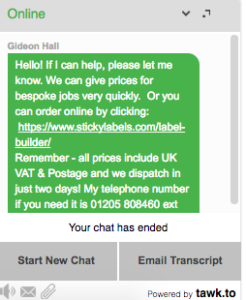 We Welcome Feedback
We're always trying to think of ways to make it easier for you to create custom stickers and we're hoping the new home page helps. But we welcome your opinions and feedback, so feel free to drop us a message and let us know! You can use the contact form or email us using the address at the bottom of the page and tell us what you love (hopefully!) or don't like (boo!) about the new design.
It's always good to hear back from our lovely clients!