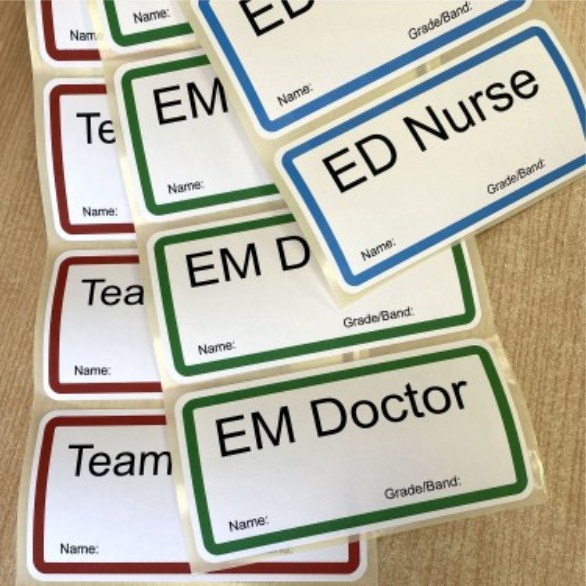 Disposable name and job role labels for the NHS.
In light of the Coronavirus outbreak, we understand that NHS staff including ICU staff are wearing PPE equipment which makes quick identification of team members an issue. Currently, NHS staff are writing names and roles on to their disposable aprons and this is less than ideal. We want to support the critical key workers in any way we can so we've created these disposable NHS name labels.
Made from matt paper with permanent adhesive
Dispatched in same or next day
Coloured border to define status
Small NHS name labels for all staff and key team members
Large NHS name labels for application to disposable PPE clothing
Specify job role
Room to write staff name
Disposable
Made for temporary use
Free samples available to test on your staff's specific clothing / PPE types
NHS Name Labels: Large and Small Sizes
Seeing the hard-working NHS staff on the news made us realise that all the necessary precautions of PPE equipment can make identification of team members very difficult at a time when it matters the most. We've created these disposable name labels to help with that, in two distinct types:
Small name labels: For the benefit of all staff members and patients.
Large Name Labels: Ideal for identifying team members through application to disposable PPE wear like aprons.
Our NHS name labels can be fully edited and changed using our labels designer or you can simply buy them as they are and write the names of your team on there.
Please let us know your requirements for your NHS Name Labels and we will get back to you as soon as possible.
Categories
Business Labels Printed Fast!
Our labels for business are printed and dispatched within 2 working days as standard and we can make this even faster if needed! We'll make sure that you're never left without the stickers you need, when you need them.
We pride ourselves on not only a fast service but ensuring that the labels for business are the very best quality available. We have everything ranging from business address labels, labels to track items, postage labels, labels for branding or simply to make your items more secure. All can be fully customised to display your own designs and logos and they are ideal for ensuring a professional look on every thing you do. We even print barcodes, so take a look.
Our business labels come in all shapes, sizes, colours and finishes and you can rest assured that we are available to advise and help you with any queries.