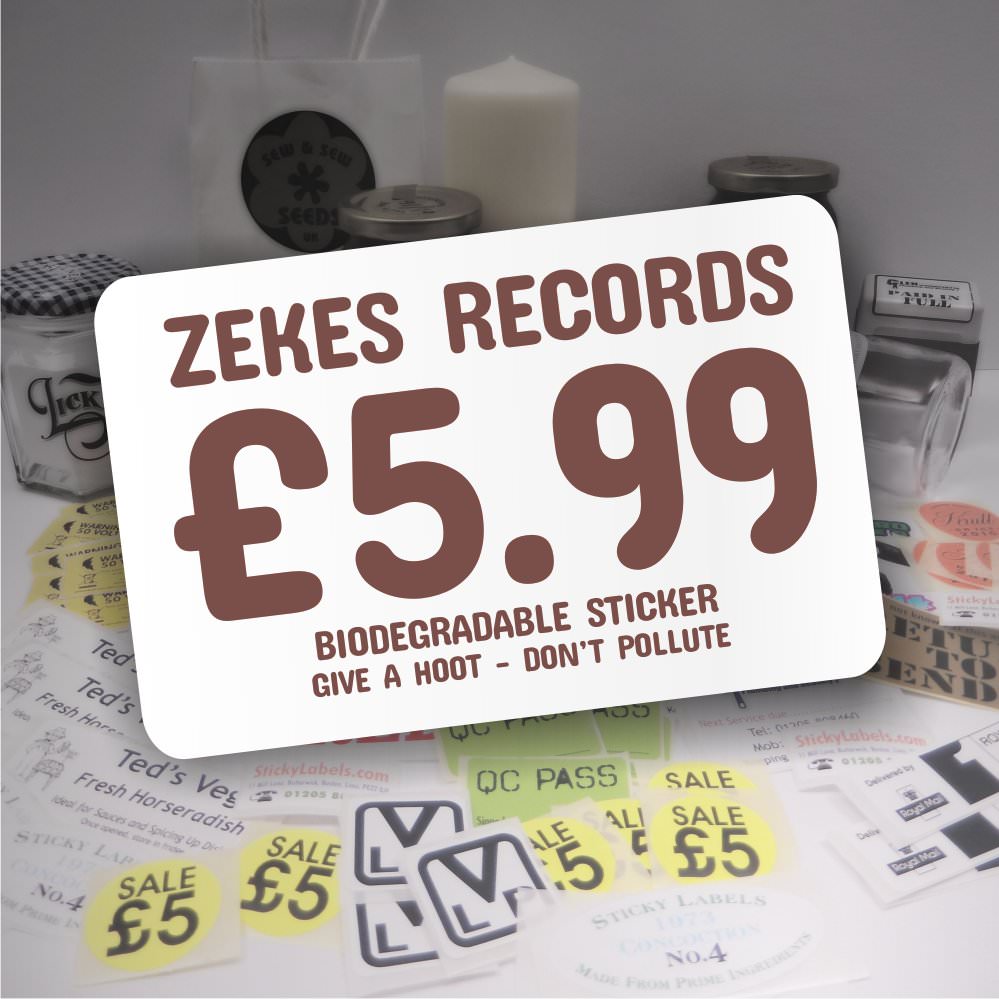 Our biodegradable labels and stickers are made from white, wood-free, elemental chlorine free, non-coated paper with a permanent acrylic adhesive which conforms to the standard EN13432… And best of all, they are 100% biodegradable!
They can be applied to a compostable packaging that will still be considered as compostable according to the European Industrial Compostable Standard EN13432 if the label represents less than 1% of the total weight of the packaging.
We print the eco-friendly labels in-house and offer full-colour print on rolls. As the labels are not coated, they have a matt finish which is in keeping with most organic and environmentally friendly products.
Bio-Degradable Labels and Stickers For Business:
If you are eco-conscious and wish to project sustainability into your business then it's worth considering the use of bio-degradable labels. Product packaging can be very detrimental to the environment and even if you use recycled or biodegradable packaging, you may not have considered that the label attached to that packing is either non-recycled or may take a great number of years to decompose.
Our biodegradable labels and stickers comply with EN13432 standards to ensure that:
They do not contain volatile matter such as heavy metals
They will 90% biodegrade into CO2, water and minerals within 6 to 9 months
Their decomposition will pass eco-toxicity tests
Label and print quality will not be compromised
… Ensuring that your eco-friendly labels won't cost the earth!
100% Biodegradable Stickers Custom Printed:
Since July 2018, we've offer biodegradable labels in almost any size and shape, printed full colour using food safe inks. The sticker will break down 100% with no nasty left-overs or residual effects. These are quite simply the best biodegradable stickers on the market and you can choose any design or colour.
– Biodegradable matt white paper with a Biodegradable permanent adhesive which is compostable/biodegradable conforming to EN13432
– Printed using food safe inks
– Supplied on rolls
– Printed full colour
– Almost any size/shape (up to 190mm wide)
– Minimum order just 250 labels
What Are Biodegradable Labels Made From?
The biodegradable labels are made from matt biodegradable white paper with a biodegradable adhesive.
The Best Biodegradable Stickers On The Market!
We've taken a long time researching and finding the best, fully biodegradable labels and stickers available. We know our printing service and quality cannot be beaten with a 2 day dispatch time but it took us years to find labels that break down 100% within a year that are fully compostable and environmentally friendly. Wherever possible we look to improve our products and processes so as new or better solutions become available we'll be ready to embrace them. Having the right product does not always mean you'll get the service you deserve… With Sticky Labels you will not have to compromise.
Categories
Business Labels Printed Fast!
Our labels for business are printed and dispatched within 2 working days as standard and we can make this even faster if needed! We'll make sure that you're never left without the stickers you need, when you need them.
We pride ourselves on not only a fast service but ensuring that the labels for business are the very best quality available. We have everything ranging from business address labels, labels to track items, postage labels, labels for branding or simply to make your items more secure. All can be fully customised to display your own designs and logos and they are ideal for ensuring a professional look on every thing you do. We even print barcodes, so take a look.
Our business labels come in all shapes, sizes, colours and finishes and you can rest assured that we are available to advise and help you with any queries.