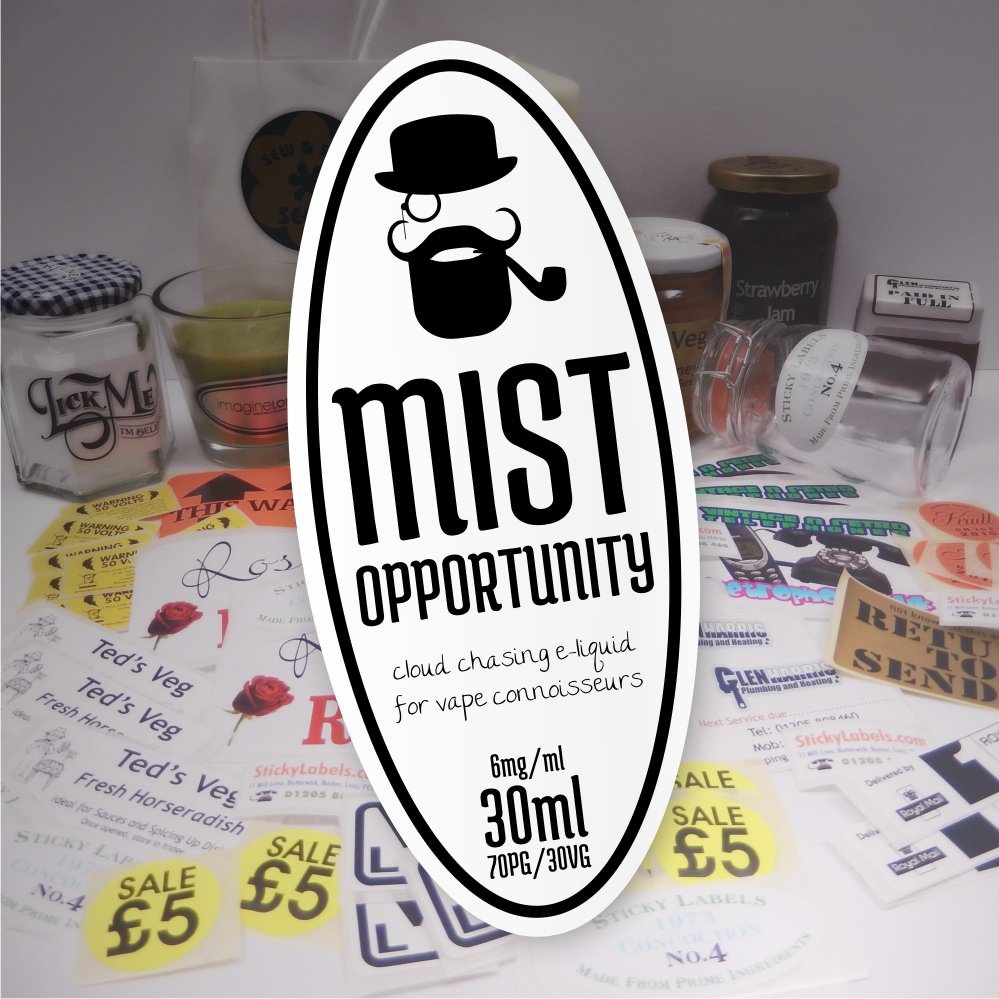 If you're a supplier of UK e liquid (Often known as e-juice or vape liquid) then you'll know how important it is to have a custom label that conveys your brand and individuality.
We cater for all the standard sizes of e liquid bottles: 10ml 15ml / 30ml and you can select custom sizes in our label builder for 50ml / 100ml ... We're proud that we're able to create any custom sizes or shapes to suit you.
All of our e liquid labels are custom printed in-house and we'll ensure that you are in compliance with UK law for promoting your juice.
Select from our pre-made stickers lower on the page or you can visit our waterproof vinyl page to create your own from scratch or upload your artwork.
WATERPROOF VINYL LABELS
Vinyl Stickers for E Liquid Bottles E Liquid bottle labels and stickers for all standard UK bottle sizes (10ml / 15ml / 30ml... 50ml /100ml available on request) printed fast and we'll aim to get them out to you within 2 working days.
We can print on a roll to make machine printing a simple process or of course you can apply them by hand for custom short runs of e liquid or bespoke labels for exclusive vape juice.
Let us know if you want something unique and we'll be glad to help. We can create custom sized and shape e liquid labels that will fit any size bottle or simply be used to promote your brand.
Ensure that you comply with UK legislation for e liquids by keeping your juice bottles labelled correctly.
Categories
Business Labels Printed Fast!
Our labels for business are printed and dispatched within 2 working days as standard and we can make this even faster if needed! We'll make sure that you're never left without the stickers you need, when you need them.
We pride ourselves on not only a fast service but ensuring that the labels for business are the very best quality available. We have everything ranging from business address labels, labels to track items, postage labels, labels for branding or simply to make your items more secure. All can be fully customised to display your own designs and logos and they are ideal for ensuring a professional look on every thing you do. We even print barcodes, so take a look.
Our business labels come in all shapes, sizes, colours and finishes and you can rest assured that we are available to advise and help you with any queries.